Move up a gear and enjoy a new level of services to manage your crop operations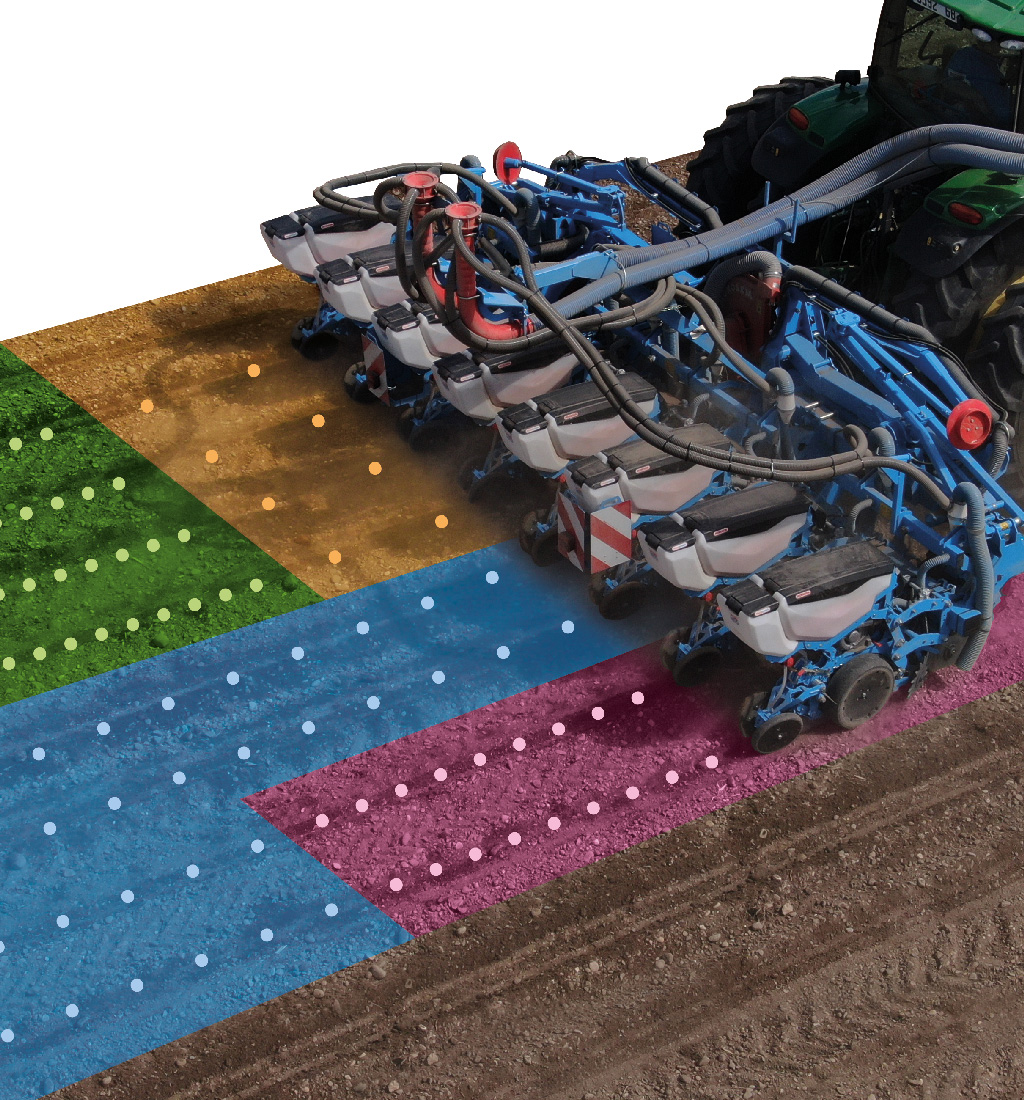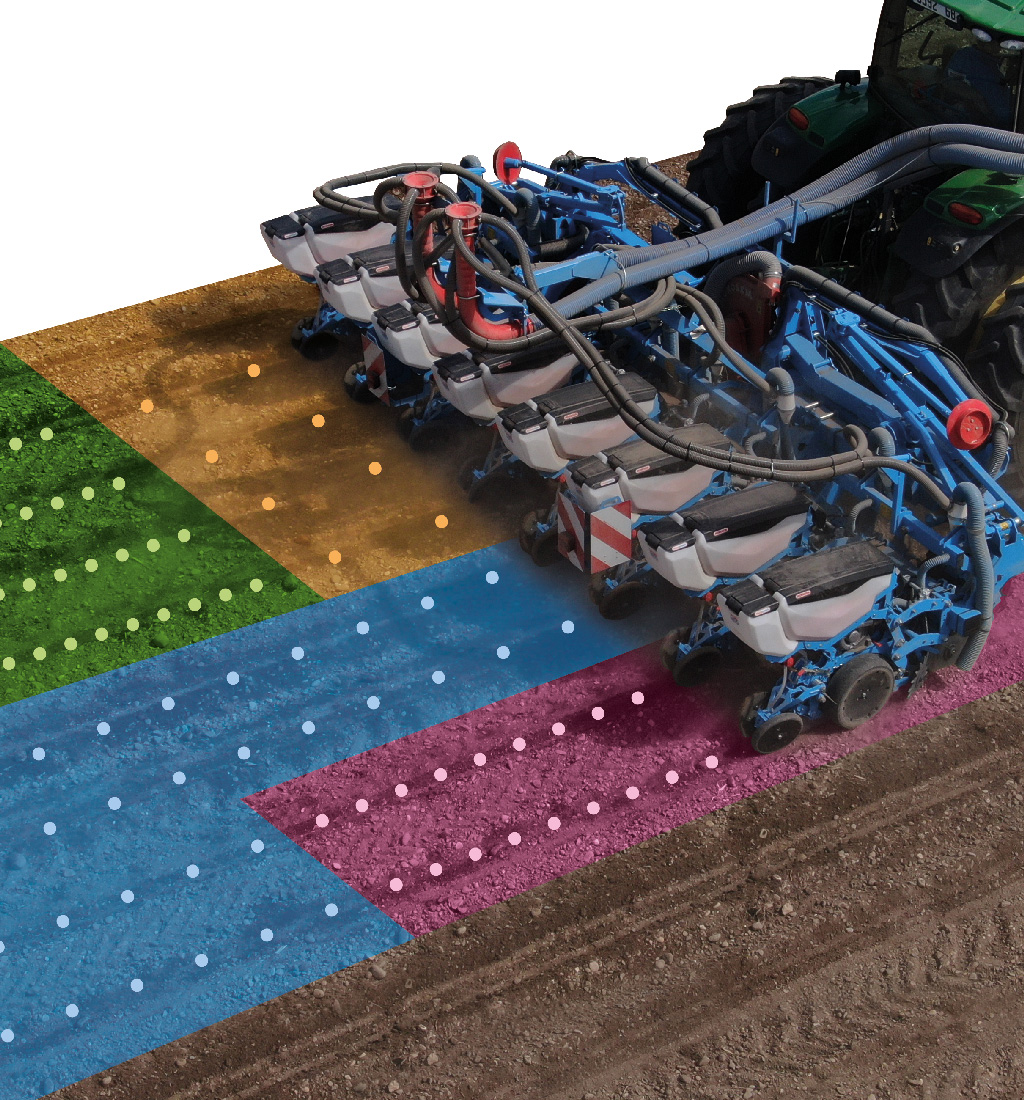 The right rate in the right place!
High-precision is the watchword here, to boost savings on inputs, optimize yields and protect the environment!
There was a time when dosing rates adjusted according to a prescription map had to be applied across the entire width of a machine – the planter in our case.
The ValoTerra single-seed planter has now gone a step further to offer you increased precision.
You can now divide the working width into sections of up to four planter units to adjust your planting operations to perfection.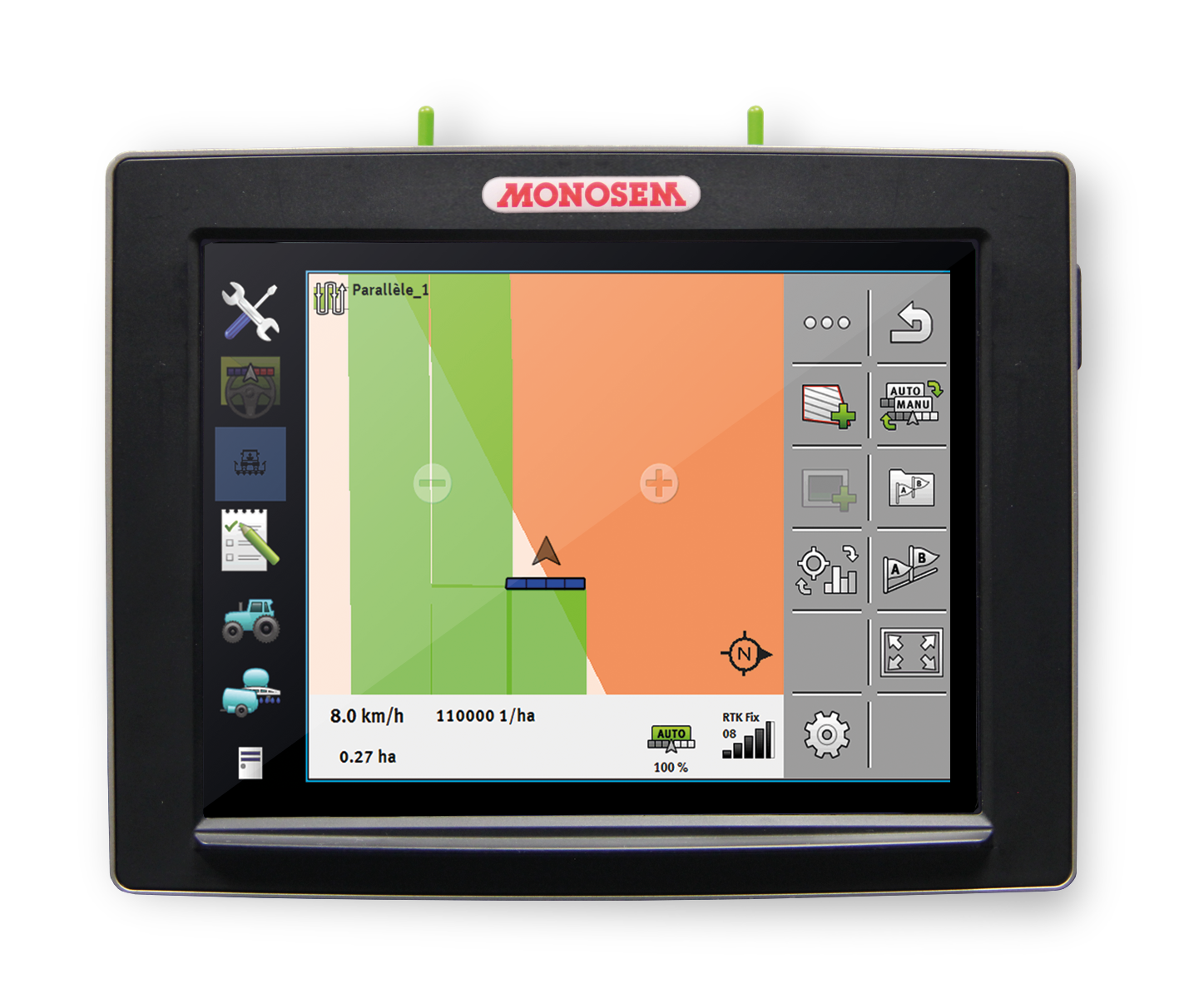 No overlaps!
Eliminating overlaps, saving on inputs and making subsequent crop operations easier are all smart solutions for driving operating efficiency and sustainability!
Managing overlaps is now a standard feature. Besides enabling you to cut back on seeds and inputs, it also helps you manage cultivator runs much more effectively.
The ValoTerra planter's ISOBUS technology includes a GPS device that enables you to manage row cut-offs for up to 24 rows.
The on-board terminal screen displays the cut-offs using a variety of colors and shadings for a clearer overview. What's more, when a row is cut off, a sound is emitted to notify the operator.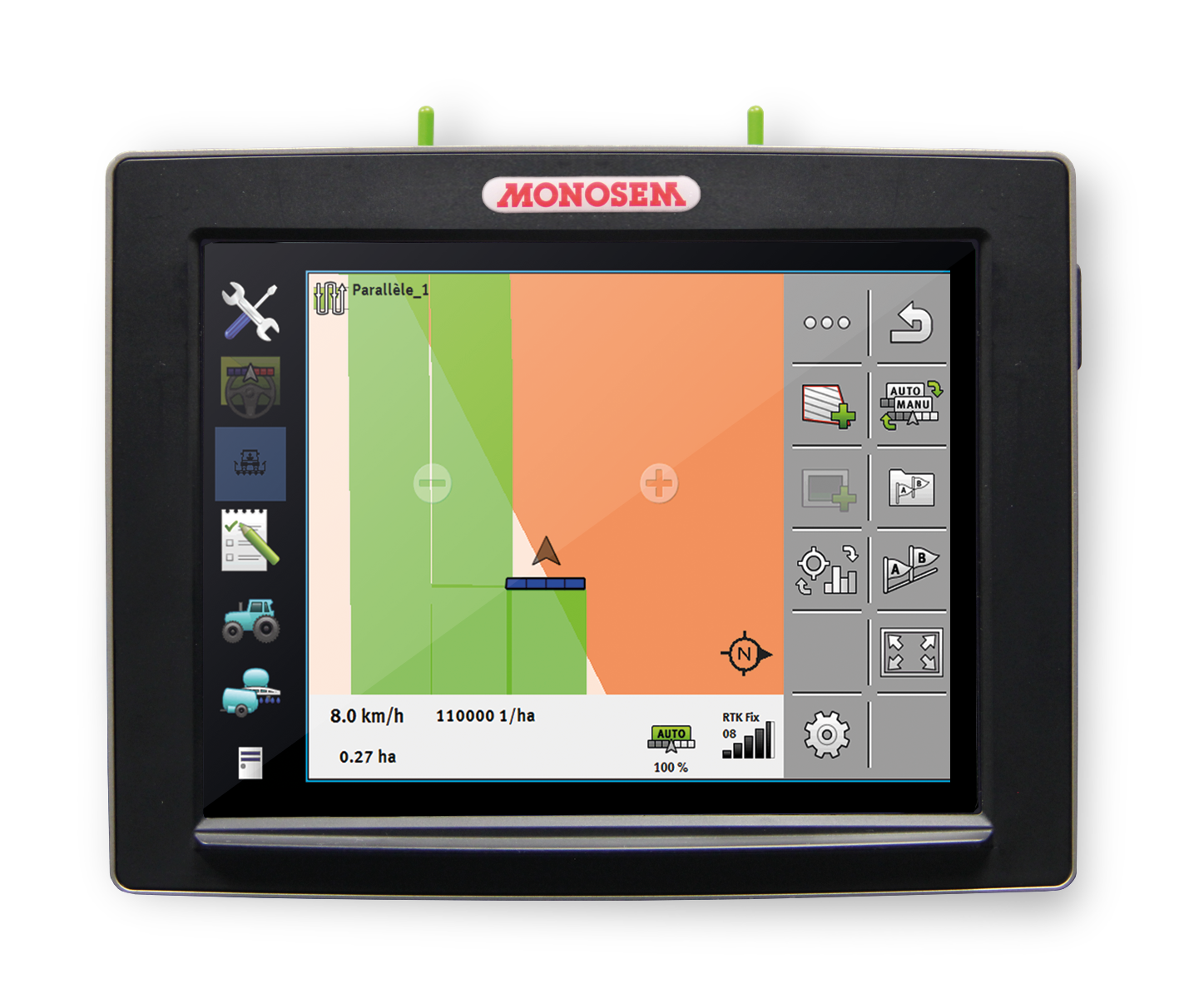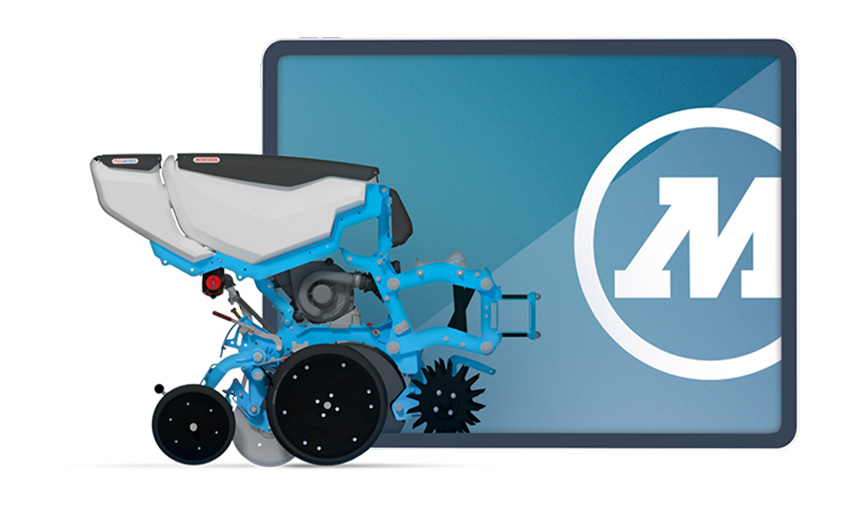 The software for the ValoTerra precision planter controls and monitors planting operations and is ISOBUS-compliant. You can therefore control your planter from a terminal that is ISOBUS-compatible, such as the Monosem Touch Pro, Touch and Touch Mini consoles.
This user-friendly and intuitive software enables you to set and control seed distribution, as well as monitor planting quality in real time.
You can now enjoy controlling and monitoring your fieldwork with our ergonomic and information-rich software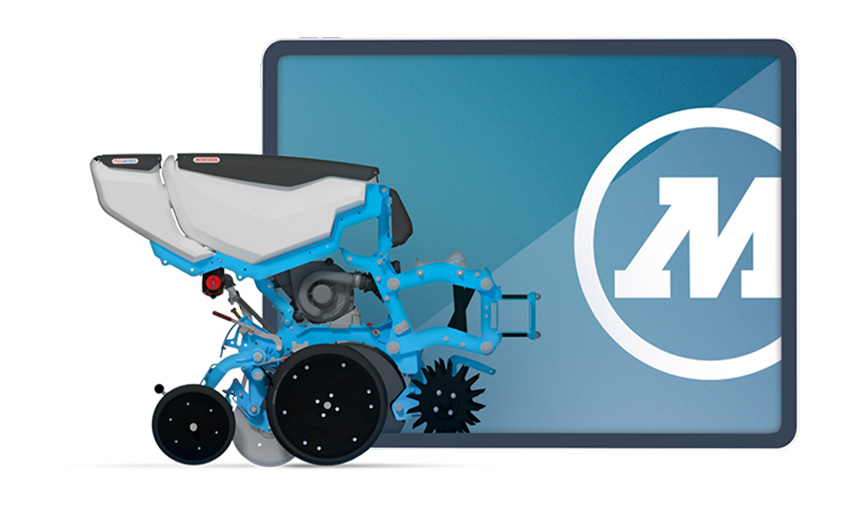 Main features of the ValoTerra software:
Tramline
Target density
Actual density
Working speed
Hopper filling level indicator
Monitoring of planting precision (spacing coefficient)
Display showing seed metering quality (omissions, duplicates)
Seed, fertilizer and microgranule rate can be controlled using the terminal
Settings library for all inputs (product settings are saved in the software)
TC-GEO (variable rate control) and TC-SC (section control)-compatible for all products applied
It goes without saying that ValoTerra software guarantees a new level of services. Enjoy discovering these services on this page.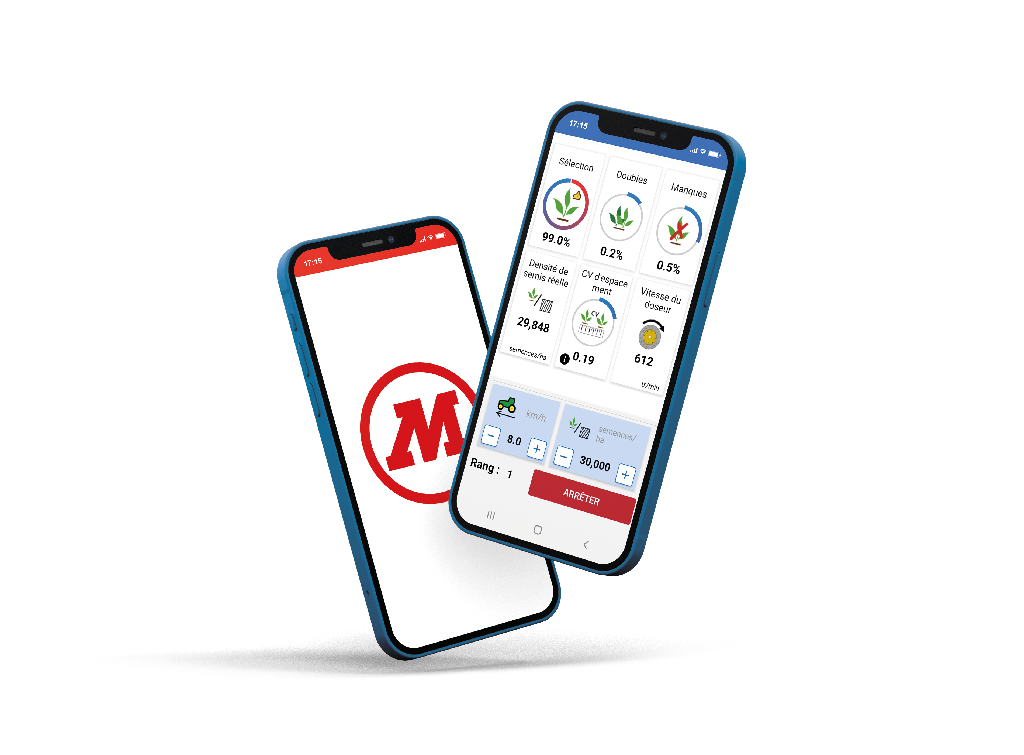 With the Monosem Plus app, control seed metering and unit calibration from your smartphone, without being in the tractor cab!
Keep an eye and a finger on the controls … using your smartphone
The long wait for ultimate operating comfort is over thanks to the new Monosem Plus app.
Installed on your smartphone, Monosem Plus hands you control over each seed metering box.
A WDS* (Wireless Data Server) added to the seed planter's architecture enables you to run diagnostics on each row** from your smartphone using "WiFi Direct".
* Available now with the Touch Pro ISOBUS terminal
** Monosem Plus available to control the seed metering box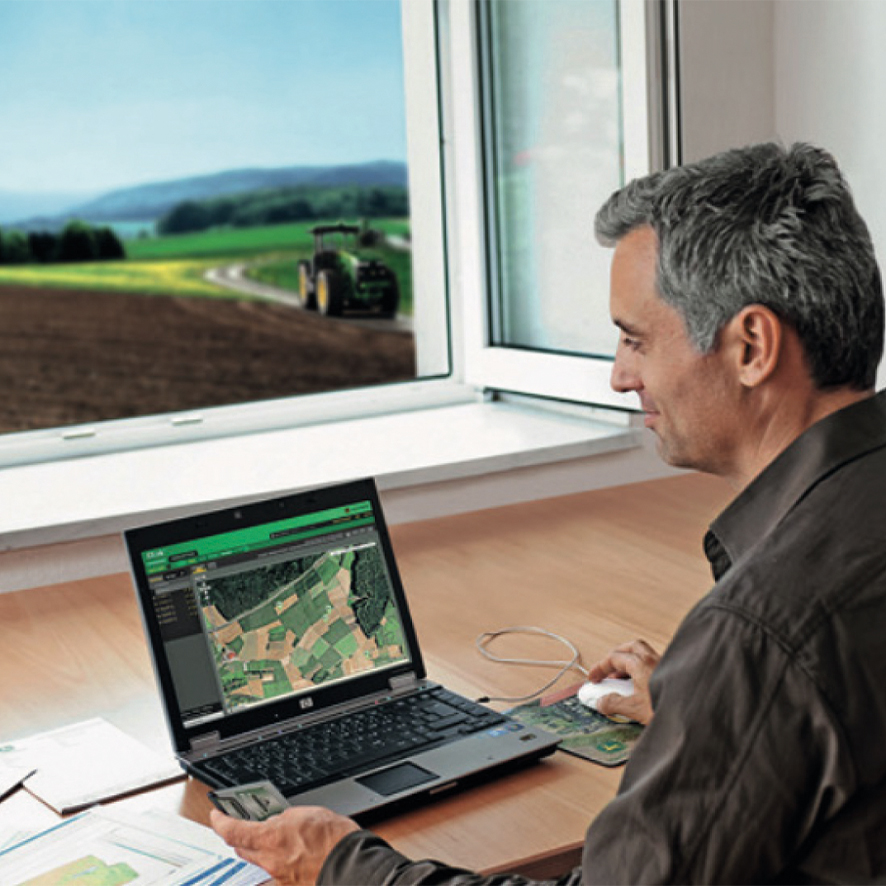 Stay connected to your machine, even away from the field!
What could be more convenient and reassuring than having constant remote access to your seed planter's nerve center?
This feature is available by installing an optional MTG (Modular Telematic Gateway) module, which sends data over the cellular network.
It works thanks to the Monosem RDA (Remote Display Access) solution.
Remote updating
With the MTG (Modular Telematic Gateway) module installed on your tractor, you can manage any maintenance operations required on your machine remotely and download updates.
The Myjohndeere.com Cloud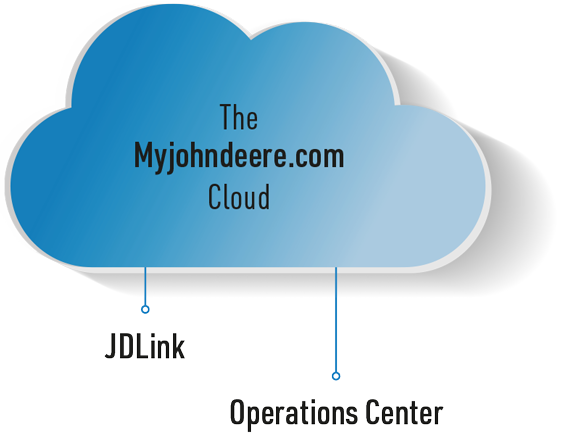 The cloud can be accessed by anyone, anywhere!
You can use the Myjohndeere.com cloud solution to store management data for your fields and data for your Monosem equipment. This cloud is accessible to absolutely everyone! Anyone can set up an account, register and use this data storage hub free of charge.
1 - Two complementary yet unique applications!
The Operations Center application hosted by Myjohndeere.com can help you manage the documentation of agronomic data for your fields.
Parallel to this, the JDLink application offers technical management solutions for your Monosem equipment.
2 - Two-way interaction for convenience and peace of mind!
Monosem's unique brand of precision farming is not only about collecting agronomic data. It also focuses on the interaction between equipment owners and their machines.
This interaction is key to optimizing settings, managing field work and reducing maintenance costs.
Monosem precision farming pays specific attention to two-way communication between machinery and the cloud, and therefore the owner.
This communication offers ease of use and productivity gains that surpass your standard precision farming solutions.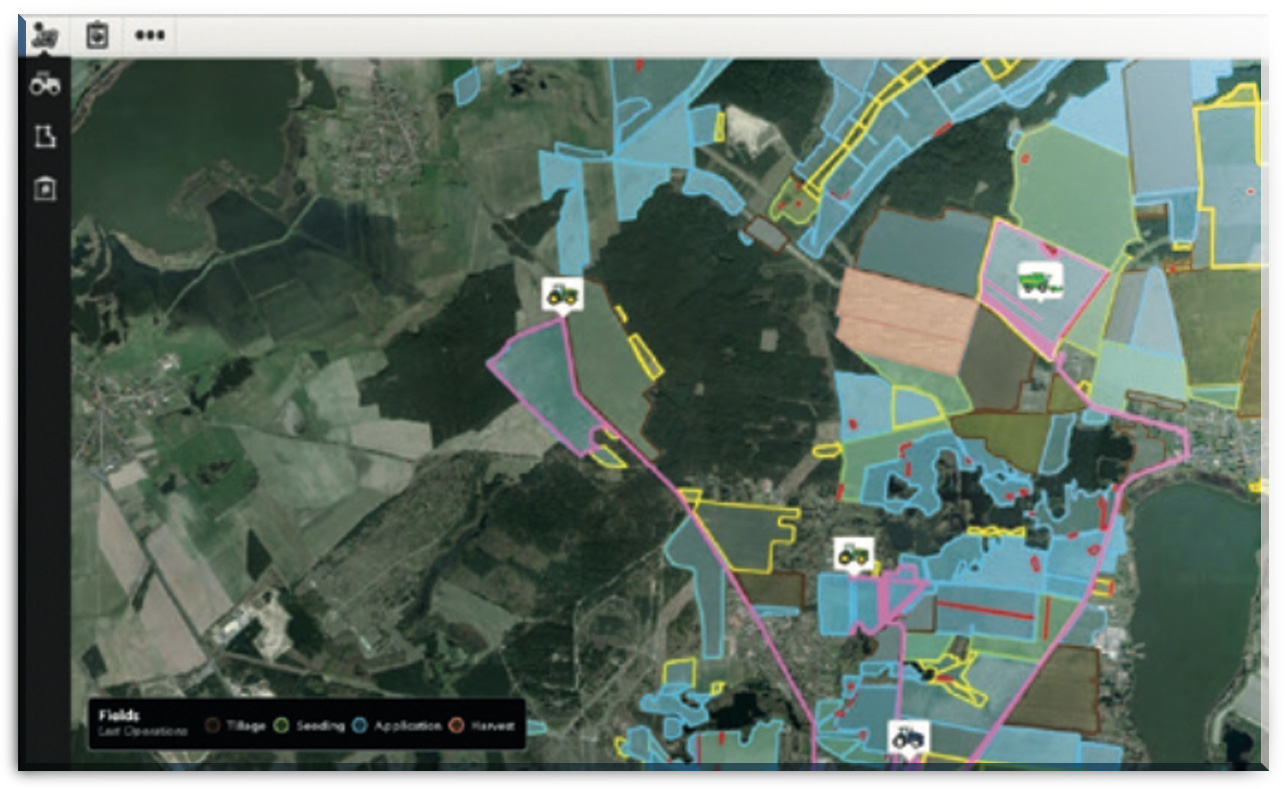 3 - JDLink, helping you manage your Monosem equipment
As well as storing information about your equipment, such as serial numbers, product names, configurations and settings, the JDLink system also offers you countless other advantages.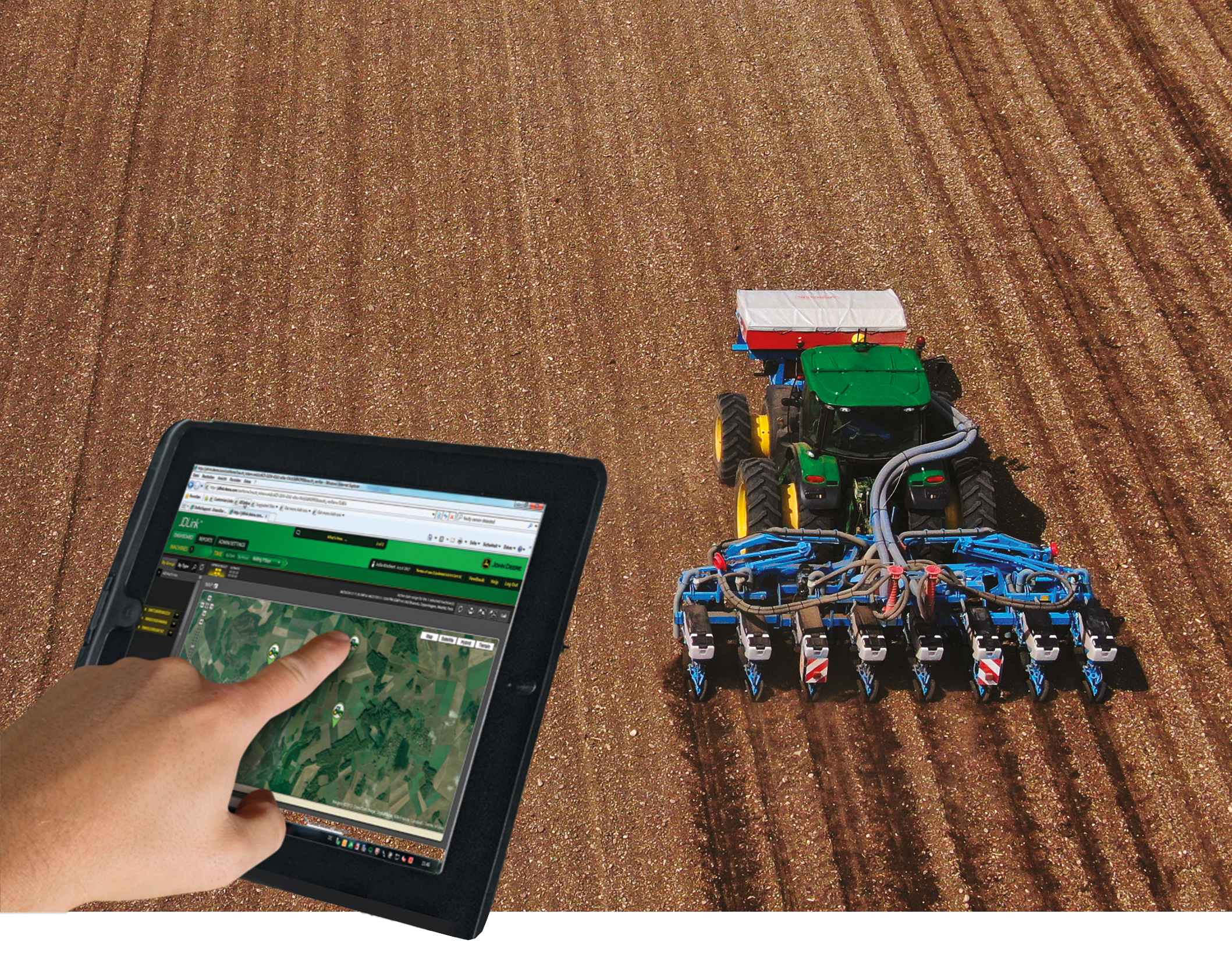 With technical data transferred from the planter, you can keep an eye on your equipment in real time!
Technical data including alerts, maintenance plans and location data are transferred in real time by the optional MTG (Modular Telematic Gateway) module installed on the planter.
AN AGILE SOLUTION OFFERING COUNTLESS POSSIBILITIES
Track your equipment's location in real time
View the movements log
Receive alert messages from the DTC (Data Trouble Code) alert system by email or text message if technical faults are detected
Receive real-time alerts if your planter travels outside of an area you have pre-defined
Receive alerts if your planter is used outside of a time window you have pre-defined
Track your equipment's location in real time
Receive maintenance recommendations for your equipment
Update your planter software remotely by authorizing access to your technical support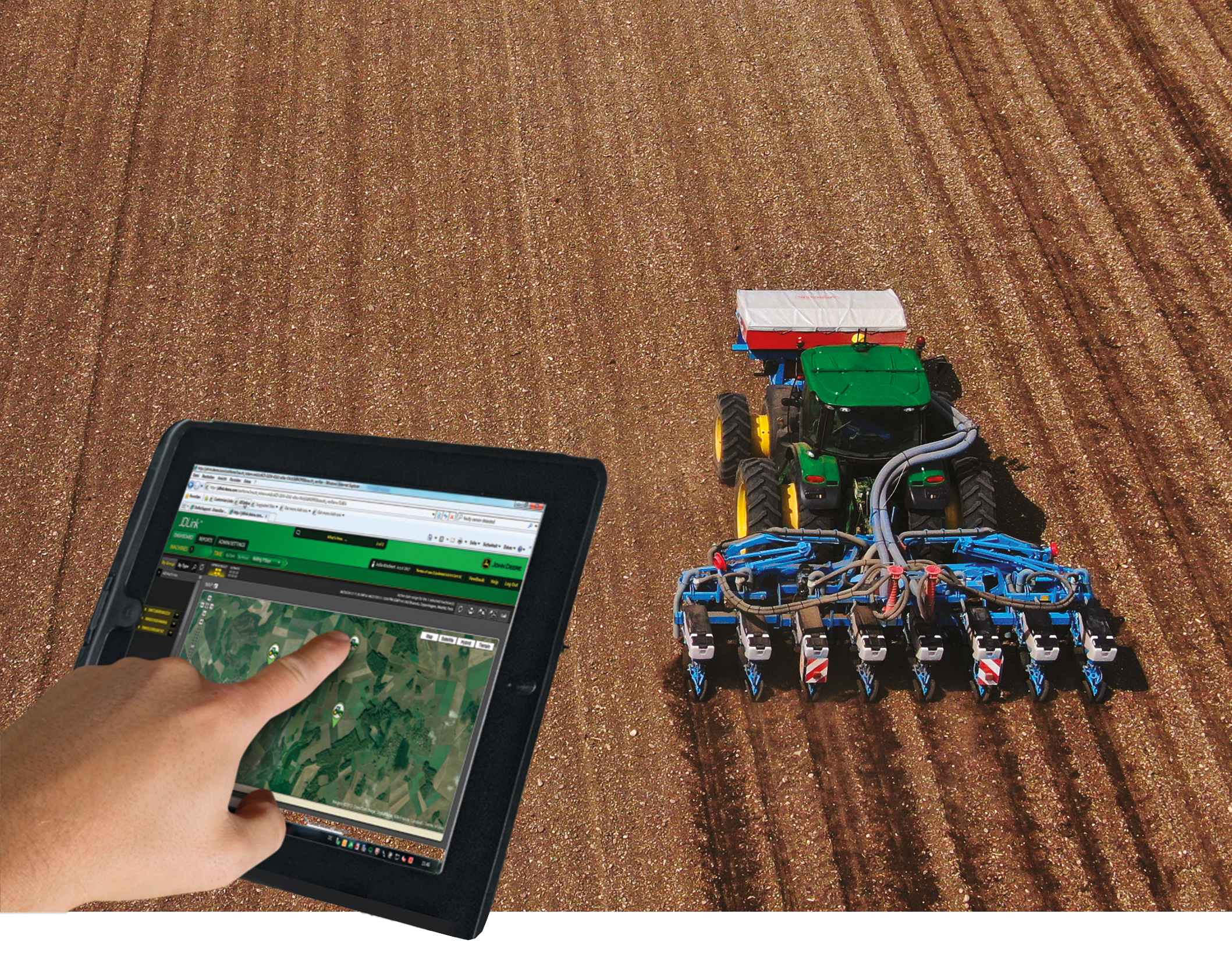 4 - Operations Center, helping you document agronomic data
As well as storing information about your equipment, such as serial numbers, product names, configurations and settings, the JDLink system also offers you countless other advantages.
Manual transfer using a USB memory stick
Manually transfer your crop data from any tractor terminal to the Operations Center using a compatible USB memory stick (make sure the terminal has a USB port).
Transfer using a WiFi hotspot
This type of data transfer is easy if you are equipped with a Monosem Touch Pro unit or a John Deere 4640 terminal. As soon as you are near a WiFi hotspot, your data is automatically sent to the cloud.
Solutions combining an MDT (Mobile Data Transfer) USB stick and a smartphone installed with a WDT (Wireless Data Transfer) app are available for any other on-board computers, regardless of the tractor brand.
Transfer data to the cloud in real time
The ideal solution for tractors or terminals equipped with their own MTG (Modular Telematic Gateway) module.
As you've probably noticed, our versatile system is compatible with countless solutions to meet every need!
Besides enabling you to save general information on customers and fields, Operations Center is also a powerful documentation, mapping and traceability tool.
Two-way interaction for convenience and peace of mind!
Enjoy browsing through data such as seed variety, target planting density, actual density, metering rate, seed spacing and its degree of variation, and working speed.
What's great is that your data can be processed in the Operations Center whatever your tractor brand.
There are also solutions for exporting data and using prescription maps on Monosem planters, provided that tractors are appropriately equipped.
Don't hesitate to contact your Monosem dealer for further information.